Customer Relationship Management
Ever wondered what makes the difference between good and great sales teams? The answer is simple – the tools they use! And, when it comes to business applications or tools, Odoo rules. In this article, we're going to discuss the basics of Odoo CRM and features it offers.

CRM, or Customer Relationship Management, refers to the fusion of practices, strategies, and technologies that businesses employ to manage customer interactions and analyze relevant data, with an intent to provide better customer service, ensure customer retention, and drive sales growth.

The implementation of a CRM system, however, requires considerable time and expense. But the result it produces albeit worth the price.

The need for an innovative solution for customer management has spurred the advent and development of many cloud-based, on-premise, and open-source CRM systems. But the plethora of options comes with a dilemma – which one to pick for your business?

Well, the Odoo CRM module within the Odoo platform is what we recommend. Why? We can compile a long list that could take hours to read but for the time being, let's focus on the key features the Odoo CRM offers.
Effective Lead Management
Odoo's column matching tool allows you to import your lead by mass, and you can also enter leads manually.

Integrate your website's contact form or VoIP phones or both with the system.

The GeoIP feature detects the location of your lead automatically to help you send tailored emails to customers of different regions.

Send emails from within the system, and you can make calls as well, isn't it great!

Odoo Live Chat lets you talk to your visitors and convert them into leads; in addition, the option for customized rules based on location or webpages is likely to bring positive outcomes.

Score your leads based on different criteria and define actions to be taken based on lead score.
Well-Organized Opportunity Management
Organize a sequence of actions for each opportunity within the CRM module.

You can also schedule activities, and track, log, and analyze the activities of your sales team.

The "pipeline" within the module gives a clear overview of all your actions.

The drag-and-drop feature enables you to work faster and update the status of your leads within seconds.

Create sub-stages to organize the processes better and you can also add descriptions on each stage to make your pipeline further customized.

It takes a few clicks to send quotations – by email or print – from within the CRM module.

Odoo CRM automatically archives the lost opportunities and saves in a separate field, enabling more robust analysis to find reasons behind losing opportunities and come up with a plan to improve sales efficiency.

You have access to all information – such as pages visited on your website, emails, meetings, next actions, preceding orders, and anything you can think of – right into the opportunity.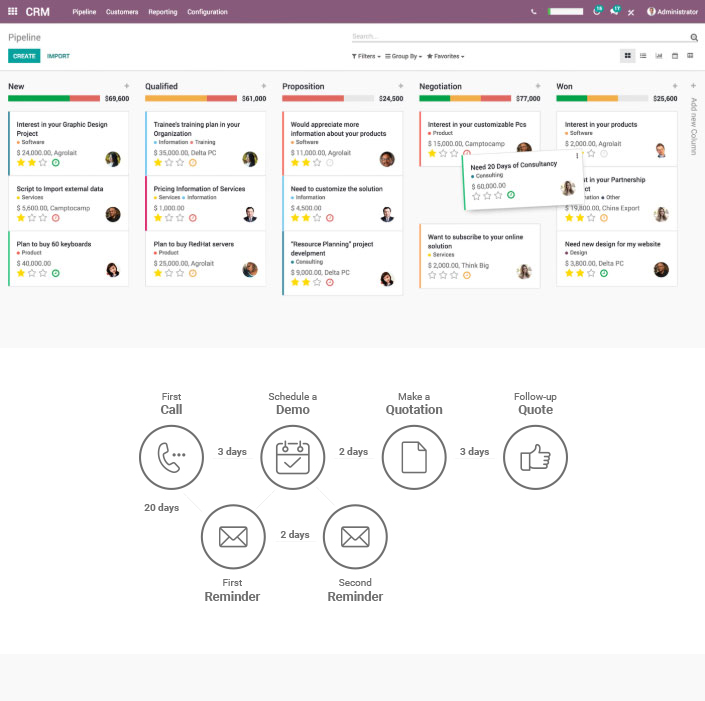 Effective Features To Facilitate Top-Notch Customer Service
You can share a clean address book with your sales personnel.

Set your customer's preferences – such as language, delivery methods, financial data, and others – with ease.

File multiple addresses and contacts for a single company.

Get the full history of activities of any customer within a few clicks
Customized and Integrated Communication
Create custom email templates for most common communications with your customers or opportunities.

Get new leads automatically based on incoming emails.

In case of failed calls, you can reschedule another call or send an email.

Automate what to do next with ease.
Excellent Dashboard with Resourceful Insights
The CRM module gives your salespersons and managers access to a predefined and well-designed dashboard to monitor important lead KPIs with ease.

You can also build your customized dashboard with the advanced report engine.

Analyze your opportunities with advanced filters, grouping, drill-down, etc.

The dashboard enables you to analyze lost and won opportunities to find trends and improve conversion rate.
Modern and Responsive User Interface
The intuitive and responsive UI of the CRM module allows you to monitor activities and manage sales from any device.

The UI also comes with useful tips and best practices to configure your CRM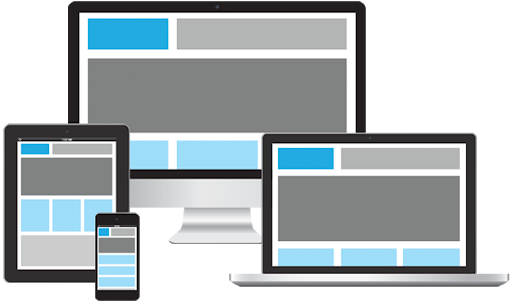 You can get more out of Odoo by integrating the CRM module with other business applications within and outside the platform.
Success Stories of Odoo CRM Module
Vectis – a Luxembourg-based management consulting firm – is one of many other businesses that benefit from Odoo CRM. Before they were acquainted with Odoo, the company was working with four different applications from different providers to run their business. For them, it was as complex as it sounds.

These impediments, with the cost of maintaining four applications, drove them to look for a better alternative. And, there was Odoo, which outperformed their old system in every functionality. Now, Vectis has one standard system for all their requirements. Apart from easing their business process, Odoo has also helped Vectis to save a huge amount of time and money. The applications they are using are Odoo CRM, Sales, Invoicing, Project, Timesheets, Expenses, Accounting, and Vacations.

The Bertinchamps Brewery is a beer manufacturing company located in Belgium. After they started brewing in 2013, they were doing well and grew from nothing to 1 million bottles in three years. Their entire system, except for the accounting division, was entirely paper-based. And, with the growth, it was getting increasingly difficult for them to manage their business process.

When the company was looking for a flexible solution with easy implementation, they found Odoo as a comprehensive solution to issues they were facing at the time. Now, Odoo is an integral part of their business operation. The company currently uses the Odoo CRM, Sales, Invoicing, and Inventory applications.